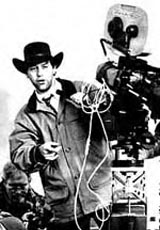 Birthdate: 23 Oct 1959
Birthplace: Franklin, Michigan, US

As one of today's most refreshing, invigorating directors, Raimi boasts a distinctive visual style characterized by acrobatic camerawork, rapid steadicam shots, and a violent physicality whose only analogues are found in slam-bang comic books and Three Stooges shorts. Raimi began shooting films at the tender age of eight with an 8mm film camera, and in his late teens financed his first feature, The Evil Dead (1983), with investments from local businesspeople and doctors. The over-the-top horror film became a hit at the 1983 Cannes Film Festival and had a very successful theatrical and video life. After he misstepped with the cartoonish action comedy Crimewave (1985), Raimi rebounded with Evil Dead 2 (1987), a technically proficient sequel to his first film. Winning a reputation as one of the most visually inventive cult directors, he was finally tapped for his first major studio assignment, co-writing and directing the action fantasy Darkman (1990), which successfully melded elements of The Phantom of the Opera and any number of comic-book superheroes. He followed it with Army of Darkness (1993, the third in the Evil Dead series, which he also co-wrote) and the Western The Quick and the Dead (1995). He co-executive-produced John Woo's American debut film, Hard Target (1993), co-wrote The Hudsucker Proxy with his friends Joel and Ethan Coen and shot second-unit for it as well, and co-produced TimeCop (both 1994). He has also worked as an actor in Spies Like Us (1985, one of many gag cameos by directors), EB>. Except (1987), Maniac Cop (1988), Intruder (1989), Innocent Blood (1992), Journey to the Center of the Earth (1993 telefilm), and most prominently in Indian Summer (also 1993), in an amusing role as the camp flunky.